Important information
We are firmly committed to maintaining Szarvas as a safe, secure and wholesome environment for our campers and staff. With the registration/application to Szarvas Camp all parents, staff and campers accept an explicit code of conduct and all of the rules and regulations of the Camp.
Unacceptable Behaviour and Dismissal from Camp
The following behaviours are strictly forbidden and violation of either of them will result in immediate dismissal from Camp:
Possession or consumption of alcoholic beverages.
Possession or consumption of drugs.
The following behaviours are also taken extremely seriously and violations of any of these may result in immediate dismissal from Camp, or in other serious consequences:

Smoking: the camp is non-smoking and smoking at any time throughout the whole of camp, including the trips, is strictly forbidden.
Leaving the campsite without permission.
Behaving in a way that seriously disturbs the community and/or jeopardizes the safety of others or themselves.
IN THE CASE OF DISMISSAL FROM CAMP, ALL TRAVEL COSTS MUST BE COVERED BY THE FAMILY OF THE PARTICIPANT OR THE COMMUNITY.
In those cases where the parents cannot collect the child in person to take them home, then they need to appoint another adult/s to be responsible for the child in these circumstances.
Please Note
Szarvas Camp does not take any responsibility for participants' personal belongings during their stay unless they have signed them in to the camp safe, which we encourage them to do.
Campers will be financially responsible for any wilful damage of property that they cause through their behaviour
The services of the camp can only be used by the campers.
According to the regulations of the medical officer, bringing animals into the camp is forbidden.
As the Camp's kitchen and dining hall is kosher, bringing non-kosher food into these facilities is forbidden. Taking food from the dining hall is only possible in plastic dishes.
Visiting Camp
Permission for a visit on any of the days of camp can only be given by the Camp Director. Visitors who have received such approval may be within the campsite only with an official visitor's card, which they will receive from security when they sign in upon their arrival.
Health, Safety and Insurance
We have general and accident insurance for all campers and staff for the whole period of the camp. This covers any accident or damage that occurs inside the campsite, as well as at all events outside camp that are supervised by the camp leadership. Szarvas takes no responsibility for anything that is not in the above framework.
The camp operates in accordance with the rulings of the (Hungarian) ÁNTSZ (Állami Népegészségügyi és Tisztiorvosi Szolgálat – National Public Health Service) and the HACCP (Hazard Analysis and Critical Control Points).
In order that everyone can arrive to, and leave, the camp in good health, we require all campers to visit their GP about a week before the start of the session, and to ask for a medical certificate that proves that the camper is healthy and can go to public places. Every camper should bring along his/her insurance card or its copy and give it to their group or unit leaders on their arrival.
Other...
We try to live an environmentally conscious lifestyle in the camp and we try to educate the campers in this as well. For example, materials used on our programs are stored and reused in an environmentally friendly way.
Campers are advised not to bring mobile phones or any other valuables (e.g. electronic gaming devices), because we cannot take responsibility for these! There is a safe available in the camp where the campers can put their valuables with their madrich's help.
How long is a session?
In 2023, our sessions are 12 days long, each of them lasts from Sunday till Friday.
How many children are in a session? In a unit? In a room?
Every international session hosts about 400-450 children. Groups are formed according to their country/unit and the age groups. The number in each group depends on the total number in the unit/country. Children are housed in groups of 4-6-8-12.
What about the accomodation?
We have three different types of accommodation which can house between 4 and 12 children. The children are placed in houses according to the size of the unit, their gender and the preferred location of the countries/units. These are the only factors that influence the type of the housing that participants are in and we try hard to ensure everyone gets the same level of care and service.
Who supervises my child during the day?
For most of the time, campers are together with their madrichim (group leaders). Madrichim are trained in their local communities. In addition, there are experienced senior JDC staff, Unit Heads, coordinators, professional facilitators, doctors, nurses and a lifeguard, supervising the children.
What is the madrich/child ratio?
The madrich-child ratio is based on the age of the campers. The younger the camper is, the smaller his/her group will be, which means, that the madrich/child ratio is higher for the younger age groups. For example: in the Negev group (6–9 years) there are two leaders caring for 8–10 children, while in the Hermon group (16–18 years) there could be up to 20-25 campers in the same group, under the leadership of two madrichim.
Is there a doctor is the camp?
Yes. There is medical care available in the camp around the clock. We have a fully equipped doctor's office on camp. You can write comments for the camp doctor in the registration form (comment section).
How many times do children eat per day?
We ensure that they receive four meals daily, three eaten in the dining hall as well as an afternoon snack (cake, fruit, etc.), served outside the dining hall.
My child is on a special diet. What should I do?
Please let us know by giving details in the appropriate column of the registration form so that the camp staff will know about it and so that we can be fully prepared. We also advise you to inform your local coordinator(s).
What each camper needs to bring to camp?
Your insurance card (or a copy),
personal toliteries,
towel/s,
a swimming suit,
clothing for sport activities (trainers, shorts, etc ...),
clothing for open-air (evening) activities (closed sweater, trousers...),
nice clothing for Shabbat (white shirt, suit pants for boys, skirt for girls...),
a kippah for the boys,
hat and sunscreen,
you might need mosquito repellent,
although, it is a summer camp, sometimes the weather can be extreme and can suddenly rain hard for a while so a raincoat might also be useful.
The 'NOT TO PACK' list?
Campers are advised not to bring along mobile phones or any other valuables (e.g. electronic gaming devices), because we cannot take responsibility for these! There is however a safe in the camp, where the campers can put their valuables, with their madrich's help.
Is there a kiosk on camp? How much money should I give my child?
There is indeed a kiosk in the camp where snacks, drinks and basic toiletry items can be bought. The kiosk closes an hour before each mealtime and re-opens after the meals finishes. Camp souvenirs can be bought in the Szarvas Shop that is located next to the Dining Hall. We cannot give exact advice about how much money they should bring but, in our experience, you should probably base it on a limit of one or two snacks a day plus possibly the cost of a camp sweatshirt if wanted. We cannot take responsibility for any valuables or money that is not put into the camp safe. Campers can deposit items in the safe at any time with the help of their madrich.
How can I reach my child?
We strongly recommend that you do not give your child a cellphone to take to camp. If, however, you choose to do so, then you can reach him/her in the short free time after meals.
Can I visit my children?
Permission for a visit on any days of the camp can only be given by Camp Director. Please contact him at info (at) szarvas.camp for preliminary permission. With this approval, you may enter the campsite where you will be given a visitor's card, which you should keep with you at all times until your departure.
Is the camp kosher and is it Shomer Shabbat?
Yes. The camp's Judaism is open and pluralistic. We accept every Jewish stream because it is important for everyone to feel at home, whatever surrounding they come from, from the most secular aspect to the most religious. To help this we only provide Glatt Kosher food and keep Shabbat in public.
We are not religious; my child doesn't have any Jewish knowledge or background...
This does not matter at all. We have many campers from all over the world who get their basic understanding of Judaism at Szarvas and many of them also experience a Shabbat for the first time in their life at camp. One of our main goals is to teach the campers about Jewish culture and traditions so that they can start building their Jewish identity in their own way.
How a typical day looks like?
7:30 - Wake up
8:20 - MiFi (mini mifkad) in groups or in units
8:30 - Mifkad
8:45 - Breakfast
9:30 - Peula
10:30 - Sport
11:30 - Madrich Time
12:30 - Lunch
15:00 - Singing
16:00 - Dancing
17:00 - Arts and crafts
19:00 - Dinner
~20:30 - Evening program
22:00 (6-9 y.o.), 23:00 (10-12 y.o.) and 23:30 (13-18 y.o.) bedtime

Additional activities: challenge park, cycling (for the elder age groups), swimming pool, mifgashim, project, pardes, visiting the synagogue, canoe, wall climbing, zip-line, cruise, excursions researching the past, visit to the botanic garden, exhibitions (on camp), museum (on camp), bonfire, pita baking, etc.
We welcome around 400–450 children from over 25 countries to each international tour. Depending on enrollment, there are between 50 and 150 children per age group.
Campers are accommodated in modern houses in a sophisticated, well-equipped and safe environment. We have three different types of accommodation. We accommodate our campers in groups of 4–6–8–12 people. Placement of children depends on the number of age groups, gender ratio and preferred location of countries/age groups. The type of accommodation is not influenced by the price of participation or the country of origin – we aim to provide the best quality of care for all. Our rooms are not coed.
Children are provided with four kosher meals a day (three in the dining room and a snack, which may be cake, fruit, etc. outside). No one goes hungry with us, we have a repast! If your child follows a special diet, please be sure to indicate this in the appropriate box when filling out the application form so that we can accommodate. No outside (non-kosher) food is allowed in the restaurant!
There is also a snack bar on the camp grounds, where snacks, refreshments and basic hygiene items are available. The snack bar closes one hour before meals and only opens afterwards. We can't give you exact advice on the cost, but we'd put the limit somewhere around the price of one or two snacks a day; you can't go wrong with a total of 5,000–7,000 HUF. If the child is buying souvenirs or gifts, you should expect to pay more. You can pay by card at both kiosks! As with other larger items, we cannot take responsibility for the card. There is a lockable safe in the camp, in which the camper can place valuables at any time with the help of his/her madrich.
We try to live in an environmentally conscious way and to educate our campers to do the same. Materials are stored and recycled in an environmentally friendly way. We have introduced a separate waste collection system in the camp.
The camp has a swimming pool which can be used by groups of campers. The pool is supervised by a lifeguard and youth leaders to ensure order and safety.
The camp has four sports fields (tennis, basketball, volleyball and football), a ping-pong room and a sports hall, which are available to campers under professional supervision. Sports equipment can be borrowed free of charge.
During the camp, children are offered age-appropriate sports and leisure activities (e.g. canoeing, cycling, adventure park, arboretum, excursions and boat trips for younger children). These services are included in the participation fee.
Our campers in Szarvas will learn songs and dances during the 12 days they spend together, which parents can see for themselves in the photos and mood videos taken at the camp.
Birthdays are celebrated together at the camp. Sometimes we sing "Happy birthday!" in ten languages at once.
Each child returns home with a camp T-shirt, so that summer memories don't fade during the year.
The approach to Judaism within the camp is open and pluralist. We accept all streams and styles of Judaism; from the cultural to the traditional to the religious, and it is important for us that everyone can feel at home, no matter what their background or level of observance is. To ensure this, the kitchen of the camp is kosher, and we observe Shabbat according to Jewish tradition in the public spaces of camp. There are many campers who get to experience their first Shabbat ever while at Szarvas.

In order to facilitate the Shabbat experience, campers are given prayer books; these books are available in Hungarian, English, and Russian. The prayer books also contain phonetic transcription.
In the camp, there is an active synagogue, regular, optional daily prayer (Maariv, Shacharit, and Mincha), and educational programs led by our Rabbis, which can be an easy introduction to Jewish life.
In collaboration with Frankel synagogue, we've been holding bat and bar mitzvah ceremonies for several years now.
During our meals, boys are expected to wear headgear (kipa).
The Jewry is present in most of our programs, we build the Jewish identity of our campers and teach the importance of belonging to the community by means of informal education and fun.
The Szarvas Camp Experience
A unique opportunity to join an international group for North American High School students at the largest international Jewish camp in Szarvas, Hungary.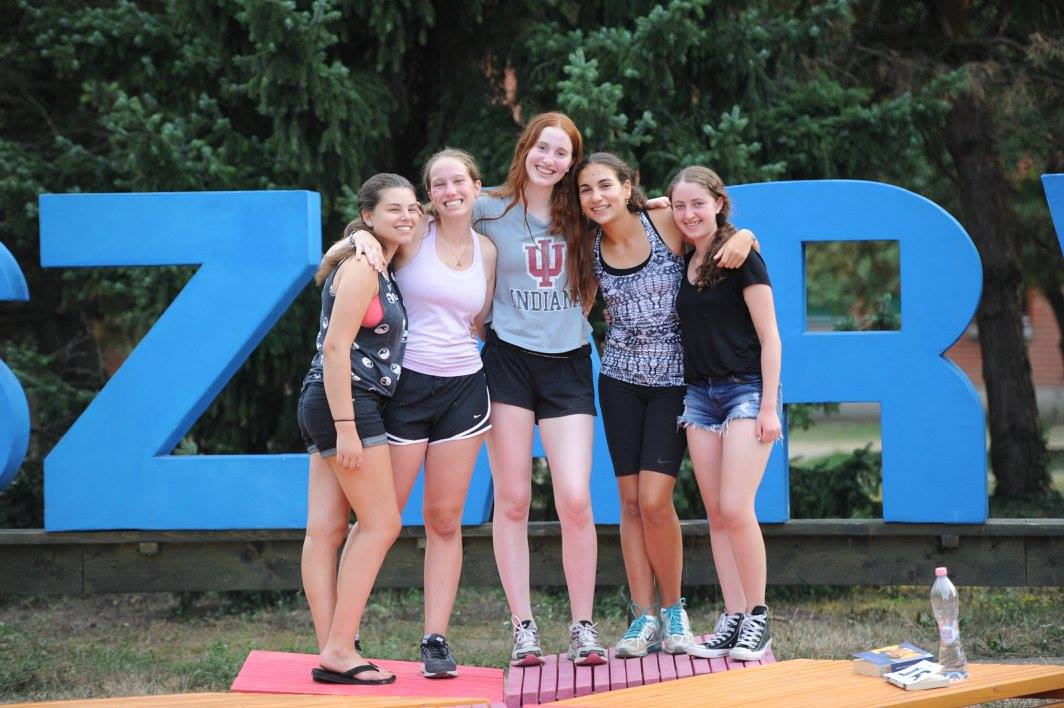 At Camp Szarvas, the North American participants will have the opportunity to meet and interact with a diverse group of peers from Jewish communities representing over 25 countries, learning together the many different ways Jews around the world live out their Judaism. Camp Szarvas is a place that nurtures exploration, leadership and Jewish identity building. It is at the forefront of what it means to engage and experience what global Jewish peoplehood is all about.
---
The International Group
In 2023, the North American participants can join the International group.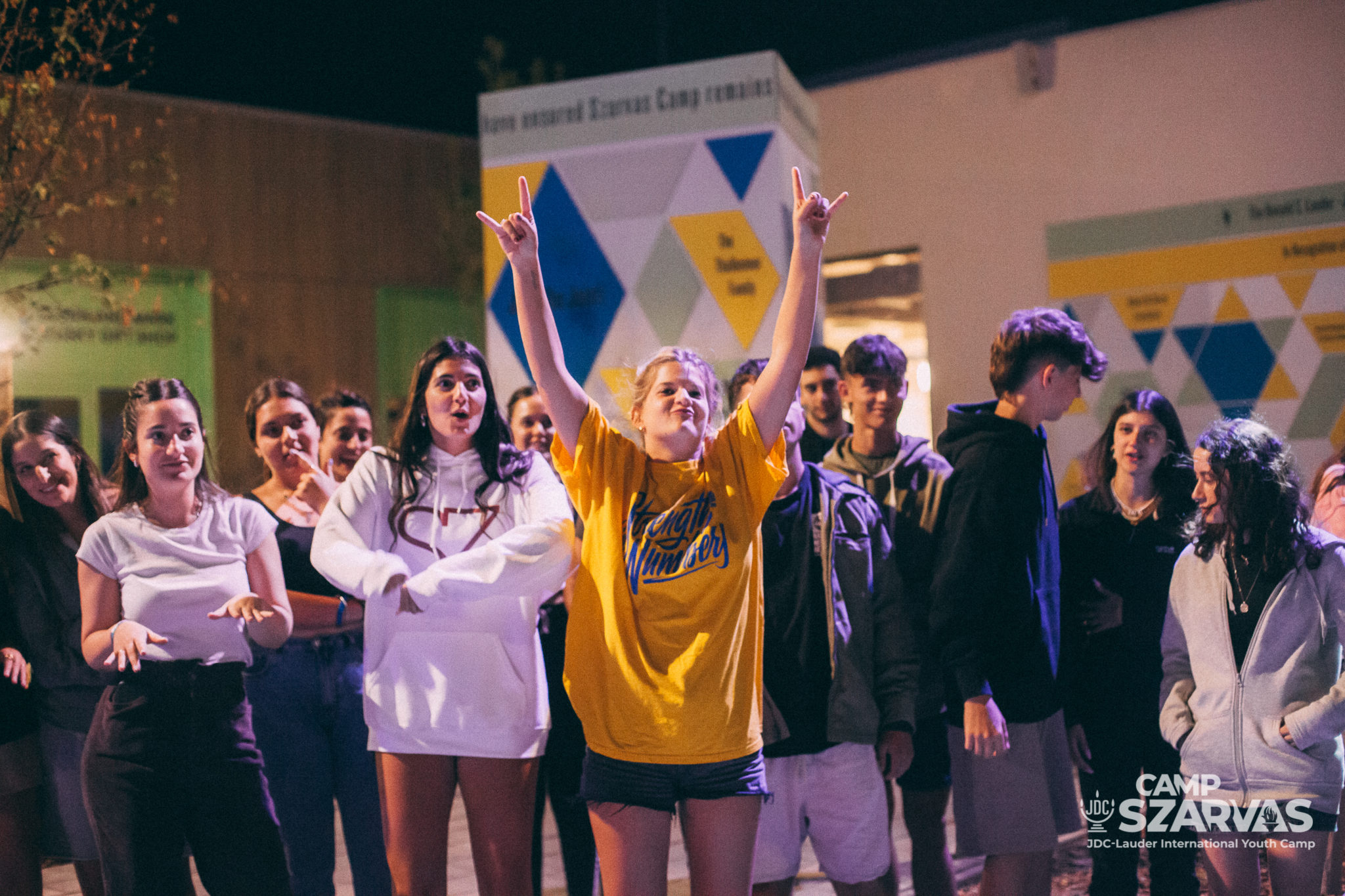 The International Group is intended for teens who want to experience Szarvas camp and get to know even closer teens from other countries and cultures. In order to take part in the International group, the teens need to be between 14 and 18 years old, and they need to have a good level of spoken English. The daily program of the International Group is the same as any other group's and is entirely conducted in English. The International Group will take place during all sessions this summer.

---
| | |
| --- | --- |
| | The JDC–Lauder Szarvas camp started in the summer of 1990 with a goal to help reinvigorate Jewish Identity among young Jews in Hungary and in the larger region of Eastern/ Central Europe and the Former Soviet Union after the fall of Communism. Hungary has the largest Jewish population in the region and is the most central geographically which made it the perfect place to open the camp. Over the last 30 years, Camp Szarvas has transformed the landscape of Eastern and Central Europe. Many of the young leaders across the region developed their strong Jewish identity and passion for Jewish communal leadership at Camp Szarvas. One of the core goals of the program is to establish a framework that allows every participant, no matter their Jewish background, to feel comfortable expressing who they are. The vision of the the camp is to make the Judaism it represents accepting and open for all. We help campers to live out their own Jewish identity and we enable and encourage them to find their own place in the framework of the Jewish community. Szarvas is a place that nurtures exploration, leadership and Jewish identity building. |
---
How to apply to Szarvas Camp 2023
Campers from around North America to travel to the International Jewish Summer Camp in Hungary, where they spend two weeks making friends from around the world, exploring their own family roots, and learning about life in different Jewish communities. They do not serve as counselors, but rather enjoy the warm summer camp environment as equal participants with Jewish students their age from around the world.
Eligibility: 14–18 year-old
Cost: $1750 (excluding airplane tickets and health insurance)